Satire Fest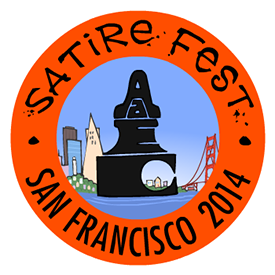 Satire Fest is a three-day celebration of satire. From the masters of the past to political cartoonists and creators of today, we invite you to explore the power and fun of visual satire.
Whether you're a fan of traditional print political cartoons, hard-hitting webcomics, satirical animation or just having a good time with a bunch of creative people, Satire Fest if for you. From The Daily Show to traditional print political cartoons to, um, Congress and City Hall, satire is everywhere these days and we'd like to bring a load of it to San Francisco!
For three days in October (9th, 10th and 11th), the Marines' Memorial Theater will host Satire Fest and showcase some of the best talent in satire. Events will range from Pictionary-style "draw-offs" to lessons about cartooning in wartime to hands-on tips about making a living doing something as unique as visual satire. There will be performances, pictures and politics from left, right, center, up and down. (As well as opportunities to buy signed art and merchandise from your favorite cartoonist.)
And this being San Francisco, there will be a healthy dose of technology relating to visual satire. From new technology that enables creators to get their work seen by millions to new, cartoon-friendly San Francisco-based outlets like Medium, you'll hear from cartoonists who are on the cutting edge of tech. The world of cartoons and satire is changing, and we're at the epicenter!
Some of the many presenters include:
Lalo Alcaraz, political cartoonist and comic strip artist who is now a writer on Seth MacFarlane's new Fox show, "Bordertown."
Tom Tomorrow, creator of the prize-winning "This Modern World."
Jen Sorensen, famed cartoonist, writer, cultural panopticon. (Look that one up.)
Keith Knight, cartoonist of "K Chronicles" and "The Knight Life" fame.
KAL, political cartoonist for The Economist and entertainer extraordinaire,
. . . and other visual satirists from the Bay Area and around the globe.
Mark your calendar now and stay tuned for the full program, which will be announced soon. More top secret special guests will be announced throughout the summer!